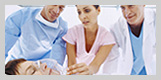 Our mission is to bring communities, hospitals and groups together with the appropriate healthcare providers in a manner that is effective and rewarding for all parties involved
We specialize in the permanent placement of Physicians, Physician Assistants and Nurse Practitioners
Highly experienced team of talent acquisition specialists is among the best in the industry.
Our agents work diligently to present you with the most appropriate opportunities that match your skills and needs
Focus is on finding the most desirable opportunities for you
You can expect the highest level of commitment throughout the entire recruitment process – from presentation to the final contract.
Finding the right job can be very challenging, at the very least — especially if you're considering relocating for an opportunity. We provide you with the best opportunities available based upon your skills and needs. 
We ensure your new employer and community make sense for you and your personal situation.
Our goal is to help match you with an opportunity and community where you'll be successful and thrive!
**PLEASE NOTE: This is a FREE service for Providers.  We will never release any of your personal information without your consent and we're committed to your privacy.  Your CV will be held with the strictest levels of confidentiality!